Charlie Oppenheim at the US Department of State issues visa bulletin predictions as to how rapidly or slowly he expects the priority dates in the employment-based and family-based categories to move forward, or to retrogress.
You can stay up-to-date with the waiting times in the Visa Bulletin by subscribing to our Free E-Mail Newsletter.
Client Reviews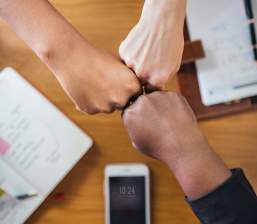 Great Work!
"We are very pleased by the services we get from the Law Offices of Carl Shusterman. Our experience in the past year with all our H1B renewals has been amazing, and we've obtained great results."
- KRG Technologies, Valencia, California
Read More Reviews
Skype Consultations Available!
Check-In with DOS's Charlie Oppenheim: April 18, 2019
Member Questions
Question 1: What data set does Charlie examine when making his projections? That is, how far back does he go to pull demand data – to number of cases filed per month/quarter in a category, or more simply pending cases, or approved petitions, or applications at the National Visa Center (NVC)?
Charlie's Answer: I look at the number use data for the current (and often previous) fiscal year (FY) to determine number use patterns, and then apply that information to determine future number use. I then compare my estimate of total number use through the end of the current month, and the annual limit to determine how many numbers remain available for future use. This is the type of thing I cover when speaking at events, such as the May Federal Bar Association (FBA) Conference which is being held in Austin.
Question 2: How does Charlie use that data? The below suggests that the Visa Office is watching most recent quarterly data from USCIS as the shutdown occurred in 2Q FY2019. If so, when he discusses a "decrease in the level of expected demand," is Charlie referring to expected demand roughly 2-3 years from now when the cases filed right after the shutdown may be ready for interview (at the earliest)?
A decrease in the level of expected demand is occurring for other countries as well. It is possible that applicants held off submitting documents while awaiting the reauthorization of EB-5 (I5 and R5) programs. Charlie expects the demand levels to increase again, as a result of the recent reauthorization. Charlie mentioned that EB-5 Vietnam has slightly less demand in the weekly groupings and is better positioned to advance. The Final Action Date included in the April 2019 Visa Bulletin for EB-5 Vietnam is August 22, 2016.
Charlie's Answer: I consider the decrease in demand currently being received, since I expected it to be higher based on the amount of applicants (from all countries) with approved petitions. It would not be helpful for me to consider potential projected demand for 2-3 years from now when determining this year's dates.
Question 3: Similarly, in the vein of asking which data set is used to make projections — there was a bulge in Indian petitions filed in Sept 2018. Does Charlie's 5-6 yr. wait-time projection expressed in Oct 2018 for Indians take that bulge into account, or can we actually expect that wait to be longer as a result of that bulge?
Charlie's Answer: I will be discussing projections when I speak at the IIUSA EB-5 conference in early May.
Family-Based Preference Categories
This month all of the FB-1 categories (with the exception of FB-1 Mexico which stayed the same) and all of the FB-2A categories advanced at the same rate as last month, at 5 weeks for FB-1 categories and 2.5 months for FB-2A categories. Charlie indicated that the demand trends and movements for FB-1 and FB-3 are steady and predictable, but that the other family-based preference categories continue to exhibit lower than normal demand levels.
FB-3 Philippines and FB-4 Philippines are showing the most sustained decrease in demand, with the Final Action Dates for FB-3 Philippines advancing more than four months in May to October 8, 1996, and FB-4 Philippines advancing nine months in May to March 1, 1997. If demand in these categories materializes quickly, it could prompt an abrupt retrogression in the Final Action Dates. Charlie notes that there is no indication of that happening in the foreseeable future.
Employment-Based Preference Categories
EB-1:
The Final Action Dates for both EB-1 China and EB-1 India hold at February 22, 2017 in the May 2019 visa bulletin. In Section D. of the bulletin, "China-mainland born and India Employment-Based First (E1) Preference Visa Availability", Charlie specifically mentions that the extremely high EB-1 number usage worldwide "may require the retrogression of this final action date in an effort to limit future number use." He further added that any such action would be temporary, with a full recovery of the Final Action Dates for India and China by October 2019, the first month of the new FY. At this time Charlie is unable to determine when this retrogression might occur. As a result, AILA members are advised to file I-485 applications for eligible clients as soon as possible.
Charlie further cautions AILA members to not expect any forward movement for the EB-1 China and EB-1 India categories for the remainder of FY 2019. It would be an unexpected and pleasant surprise to find the worldwide demand dissipating, not only preventing any retrogression, but allowing for some forward movement in these categories as well.
In last month's column, we noted that AILA members should expect movement of anywhere from "no movement up to one month" for EB-1 Worldwide, including EB-1 El Salvador, Guatemala and Honduras, EB-1 Mexico, EB-1 Philippines and EB-1 Vietnam. For May 2019, these categories advance one full month for a Final Action Date of March 1, 2018.
EB-2 Worldwide
Charlie continues to predict that based on current demand levels the EB-2 Worldwide will remain current throughout FY 2019. That continues to bear out as the category remains current in May 2019.
EB-2 and EB-3 India
In May 2019 the EB-2 India category advances a total of four days, to a Final Action Date of April 16, 2009. EB-3 India remains ahead of EB-2 India, advancing one week for a Final Action Date of July 1, 2009. While Charlie is starting to see increased demand for EB-2 India numbers, he indicated that this category will move up to one week if this increased demand does not continue.
Keep in mind that last year Charlie used up all of the numbers from his EB-3 India pending demand file that dated back to the summer 2007 adjustment of status filings. Based on the availability of large amounts of "otherwise unused" EB-3 numbers in recent years, and early indications this would hold true for FY-2019, he has advanced this India category at a faster pace. As filings continue and Charlie gets a sense of the potential worldwide demand levels through September, it could influence the pace of forward EB-3 India movement.
Since it has only been a few months since the Final Action Date for EB-3 India has surpassed that of EB-2 India, and since the delta between them is relatively small (only 2.5 months in May), Charlie has yet to see any significant EB-3 downgrade demand. If that materializes, it could alter the demand patterns and bring the Final Action Dates for these two categories closer together. Until or unless that happens, Charlie's projections for date movement remain the same. He might modify projections in the June or July Visa Bulletin based on new reports he expects to receive from the National Benefits Center in early May.
EB-2 and EB-3 China
In May 2019 the EB-2 China Final Action Date advances six weeks to May 15, 2016, and EB-3 China again advances three weeks for a Final Action Date of August 22, 2015. Charlie expects the EB-2 China category to continue to advance at a pace of up to several months unless demand dramatically increases. Members should expect EB-3 China to continue to advance at a pace of up to three weeks. Charlie noted that USCIS demand in this category dropped in February and March 2019, and thus far in April 2019 USCIS demand in EB-3 China is at about the same level as last month's number usage.
EB-3 Philippines
The Final Action Date for EB-3 Philippines advances 3 months in May to June 1, 2018. Members should expect continued aggressive advancement in this category for the foreseeable future. Charlie noted that he is surprised at how much this category has advanced over the past year, without a corresponding increase in demand. Charlie once again warns that if demand suddenly materializes, it could result in an abrupt retrogression. However, retrogression is unlikely to happen this FY since there are numerous visa numbers available in this category and it is already the third quarter of the federal FY.
EB-4
The Final Action Dates for EB-4 El Salvador, Guatemala and Honduras hold at March 8, 2016 in May. The Final Action Date for EB-4 Mexico advances four months to August 1, 2018. Members should expect continued forward movement in EB-4 Mexico until this category reaches it per country limit (possibly in July or August), at which time its date will match that of EB-4 El Salvador, Guatemala and Honduras. EB-4 El Salvador, Guatemala and Honduras can be expected to have forward movement before the end of this FY unless worldwide demand in this category increases.
There have been a lot of requests for additional numbers in the EB-4 India category, which remains current in May 2019. Charlie is waiting to see whether it will be necessary to impose a Final Action Date in this category before the end of the FY. If so, the category would return to "Current" status for October 2019.
EB-5
In May EB-5 China again advances one week to September 22, 2014. The increased worldwide demand for EB-5 numbers leaves fewer "otherwise unused numbers" available for EB-5 China. The ability and rate at which EB-5 China will advance is dependent on the rate of worldwide demand in this category. Charlie notes that the post in Guangzhou has done an excellent job catching up on the processing of these visa interviews following the recent government shutdown.
EB-5 Vietnam advances one month in May for a Final Action Date of September 22, 2016. Charlie expects this category to reach it's per country limit in July 2019. Had it not been for the government shut-down and the need to reauthorize this category, the per country limit would have been reached no later than May 2019.
What Can We Help You With - Videos
Green Cards Through Employment
Green Cards Through Marriage
---
Carl Shusterman
Carl Shusterman served as an INS Trial Attorney (1976-82) before opening an 8 attorney firm specializing in immigration law. He is a Certified Specialist in Immigration Law who has testified as an expert witness before the Senate Immigration Subcommittee. Carl was featured in the February 2018 edition of SuperLawyers Magazine.
Rate this page:
---