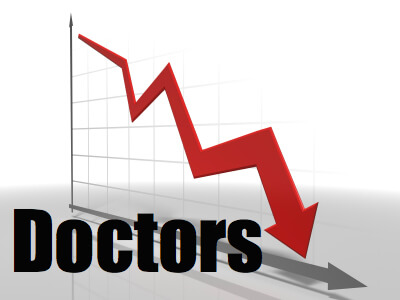 As we prepare to extend healthcare insurance to another 40 million people in the U.S., do we have enough physicians to care for them? 
According to the U.S. Department of Health and Human Services, over 25% of our population live in medically-underserved areas where there is less than one primary-care physician for every 3,500 patients.
Even under our present healthcare system, the Association of American Medical Colleges projects a deficit of 159,000 physicians by 2025. At least 15 medical specialty societies have released studies projecting shortages in their fields.  The American Academy of Family Physicians predicts a shortage of 40,000 general practice physicians within the coming decade as U.S. medical school graduates favor higher-paying specialties.  Passage of universal healthcare coverage would increase the need for physicians by 35,000.
Unfortunately, in the not-so-distant past, the prevailing wisdom was that we were training too many physicians in the U.S.  In 1997, a law was enacted which capped the number of medical residents and fellows in the U.S. at 24,000 per year.  Despite the realization that the physician shortage is severe and growing, this cap has increased less than the growth of our country's population during the past decade.
The Obama administration has earmarked $200 million in federal stimulus money to boost the ranks of the National Health Services Corps by 3,300 physicians and other clinicians.  However, this amount pales when compared against the need for tens of thousands of additional physicians.
Despite the immense shortage of physicians, it is generally agreed that the physician shortage in the U.S. would be much worse without the presence of many thousands of International Medical Graduates (IMGs), physicians who graduated from medical schools abroad.  IMGs currently comprise over 20% of all practicing physicians in the U.S.
Unfortunately, we are less than welcoming to IMGs.  Last year, over 3,000 IMGs who passed the required examinations and applied for U.S. residency programs were turned away. 

A large number of IMGs who enter U.S. residency training programs do so using exchange visitor (J-1) visas.  Since J-1 visa applicants must demonstrate that they have no intention of remaining in the U.S. permanently, many IMGs are denied J-1 visas.  Those who succeed in obtaining such visas are subject to the two-year home residency requirement.  Upon completing their training in the U.S., they are required to return to their home countries for at least two years. 
Nevertheless, approximately 1,000 IMGs per year are able to obtain "waivers" of this requirement by being sponsored by an "interested government agency" in the U.S. and working a minimum of three years in a medically-underserved area, five years if they wish to immigrate by means of a National Interest Waiver.
The bottom line is that, given the current budget deficit, Congress is unlikely to appropriate the billions of dollars required to educate and train a sufficient number of physicians in the U.S.  Passage of universal healthcare will make the physician shortage even more severe.  Therefore, we need to extend the welcome mat to IMGs wishing to serve U.S. patients.  Reforming our outdated immigration laws would be a good start.
To learn more about IMGs and our immigration laws, see our Physicians Immigration Guide.
Client Reviews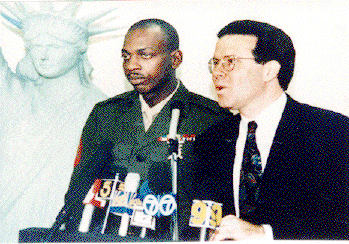 Know Their Job Well And Perform It Flawlessly
"Don't do the mistake we did and try to save few bucks going with nonprofessionals and sole practitioners! It will end up not only costing you much more in the long run, but also putting your status in jeopardy which can have a priceless impact. It is one of the most important steps in your life."
- Sgt. Danny Lightfoot, Los Angeles, California
Read More Reviews
Zoom Consultations Available!