Both the House of Representatives and the Senate each passed health care legislation in 2009, and the Administration is hoping to craft a compromise bill which would extend health insurance to an additional 30-40 million Americans.
Although the Congressional debate was extremely contentious, one important issue was never debated: How can our country provide health care for tens of millions of uninsured persons when there are not enough registered nurses to care for patients now?
The Health Resources and Services Administration (HRSA), which is part of the U.S. Department of Health and Human Services, has projected that the shortage of nurses will approach 1,000,000 by the end of the decade. As a result of our growing RN shortage, nurses are being forced to care for additional patients. Yet, a study published in the Journal of the American Medical Association (JAMA) estimates that increasing an RN's workload from 4 to 8 patients would result in a 30% increase in patient deaths.
Our country clearly needs more nurses. Can we educate more Americans to be nurses? Of course. Yet, despite the growing shortage, ten of thousands of potential students are being turned away from nursing schools because of shrinking state budgets.
In addition, there are tens of thousands of foreign-born registered nurses waiting abroad for the opportunity to work in the U.S.  Many have already passed the NCLEX examination to be licensed in the U.S. Thousands have been sponsored by hospitals in the U.S. The Department of Labor has designated registered nurses as a shortage occupation for immigration purposes for over a quarter of a century.
So what's the problem?
1) RNs are in the employment-based third preference (EB-3) category. Under the present system, there is a backlog of over seven years for a person to immigrate to the U.S. in the EB-3 category.
2) From 1952 to 1995, it was relatively quick and easy for U.S. hospitals to obtain temporary (H-1 and H-1A) visas to care for patients in the U.S. However, Congress allowed the H-1A program to expire in 1995.
It's time to get realistic about health care in the U.S. Our population is rapidly aging, and without proper medical care, there will continue to be thousands of premature deaths in hospitals due to overburdened nurses.
We need to educate more RNs in the U.S. and we need to ease the restrictions on foreign-born nurses who have passed U.S. licensing examinations.
It's just common sense.
Client Reviews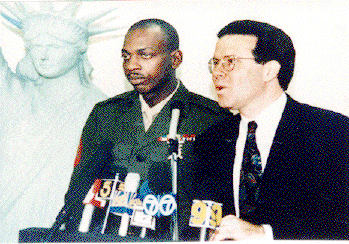 Know Their Job Well And Perform It Flawlessly
"Don't do the mistake we did and try to save few bucks going with nonprofessionals and sole practitioners! It will end up not only costing you much more in the long run, but also putting your status in jeopardy which can have a priceless impact. It is one of the most important steps in your life."
- Sgt. Danny Lightfoot, Los Angeles, California
Read More Reviews
Zoom Consultations Available!