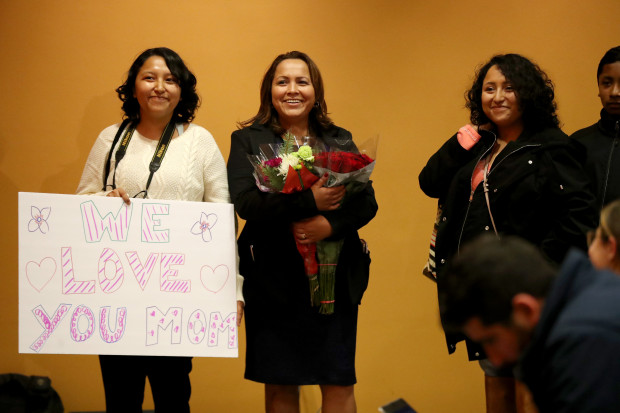 On December 15, 2018, Cancer Nurse Maria Mendoza Sanchez returned to the US after being separated from her 4 children in the US for over a year. Her story speaks volumes about our misguided immigration policies and how they continue to wreck havoc on immigrant families.
Maria first arrived in the US from Mexico over 20 years ago. Like most immigrants, seeking a better life, she learned English and attended a university in California where she earned a Bachelor of Science degree in Nursing.
She married and had 4 children, a daughter born in Mexico and 3 children who are US citizens.
Working at a public hospital in Oakland, California, a fellow employee informed the hospital that she was undocumented. Not wanting to lose the services of an excellent employee, the hospital arranged for Maria to retain the services of an immigration attorney.
Maria Applies for a Green Card
The attorney applied for green cards for Maria and her husband Eusebio through a procedure known as cancellation of removal before an Immigration Judge. To be eligible, a person must have been in the US for 10 years or more, been a person of good moral character during this period and be able to establish that certain qualifying relatives would suffer "exceptional and extremely unusual hardship" if the person were forced to leave the US. Qualifying relatives include parents, spouses and children who are US citizens or green card holders. In her case, her youngest 2 daughters are US citizens.
However, the Immigration Judge who heard their case concluded that although their citizen daughters would suffer hardship, it did not meet the "exceptional and extremely unusual" standard. They appealed the Judge's decision to the Board of Immigration Appeals (BIA).
Her Application for Cancellation of Removal is Denied
While their appeal was pending, Maria gave birth to a son who was born with a hole in his heart. This unfortunate circumstance prompted the BIA to remand the case to the Immigration Judge to decide whether this met the required hardship standard.
The Immigration Judge scheduled a hearing where evidence was submitted demonstrating that the son's condition could not be adequately treated in Mexico, and that he needed to remain in the US. However, the Judge postponed a decision on the matter numerous times until finally, the son's medical problem was solved. Then, he again concluded that Maria and Eusebio failed to meet the hardship requirement. This time, the BIA affirmed his judgment.
Fortunately, they were not seen as enforcement priorities by US Immigration and Customs Enforcement (ICE) and they were granted work cards which they renewed each year. This enabled Maria to continue to care for cancer patients at a public hospital in Oakland. Their oldest daughter was accepted to the University of California at Santa Cruz where she graduated with an excellent Grade Point Average. They purchased a house, pay their taxes and raised 4 talented children.
However, under the current Administration, local ICE officers refused to renew their work permits and demanded that they purchase tickets to leave the US and fly to Mexico within 90 days. What would happen to their children was of no interest to the officers.
At this point, one of Maria's fellow nurses recommended that she schedule a telephonic legal consultation with me. After she explained her case to me, I informed her that the time for appeals and motions had long since passed.
Press Conference
However, I told her that her circumstances were so sympathetic that I could arrange a press conference and possibly a US Senator and/or Member of Congress would introduce a private bill to help her and her husband become permanent residents of the US. I cautioned her that just a few weeks before our conversation, ICE had announced that the introduction of a private bill in Congress would no longer prevent them from deporting a person from the US.
Despite this, Maria asked me to arrange a press conference to allow their family to tell their story to the American people. We sent out press releases the day before the conference, and the next morning, various newspapers in Northern California ran the story on the front page even before the press conference.
We started the press conference at 10am. Numerous reporters, cameramen and Congressional staff members were present. That afternoon, US Senator Diane Feinstein and her staff arrived to speak with the family. Senator Feinstein told her that she would introduce a private bill to grant her, Eusebio and their oldest daughter, a DACA recipient, green cards.
We filed a request for a Stay of Deportation with ICE, and a visa petition from their 21-year-old US citizen daughter sponsoring her parents for green cards.
She Returns to Mexico
Despite this, ICE was unrelenting, and Maria and Eusebio and their 12-year-old son had to board a flight to Mexico several days later. The son soon returned to the US because his lack of fluency in Spanish prevented him from receiving a proper education in Mexico.
For the past 15 months, she and her husband have resided in Mexico while their 4 children have continued to live in their house in Oakland, California. Maria and Eusebio had saved enough money to finance mortgage payments on the house for over one year. In addition, the hospital and the union established a GoFundMe webpage where hundreds of Americans contributed money to assist the family.
She Reunites with Her Family in the U.S.
Then, in April 2018, the hospital sponsored Maria for an H-1B professional visa. Against all odds, the petition was selected in the annual H-1B lottery and was approved in November 2018. I am highly impressed by Attorney Camiel Becker who prepared the H-1B petition. He also prepared an application for a nonimmigrant waiver which Maria submitted to the US Embassy in Mexico.
Maria contacted me, and though I was very excited, I cautioned her that the approval of such a waiver could take 6-12 months. Amazingly, and no doubt due to the intervention of Senator Feinstein, the waiver was approved within a few days, and she received a temporary visa to return to the US.
When Maria arrived at the airport in San Francisco, she was greeted by her children and many of her supporters. Reporters and cameramen recorded the event.
While this is an extremely positive development, the immigration status of the family remains in limbo. Eusebio has no visa and remains in Mexico. Maria's H-1B status is valid for 3 years and can be extended up to 6 years, but what then? The DACA status of her oldest daughter who mothered her 3 siblings for the past 15 months is uncertain and is currently being litigated in the Federal Courts. But, at least for now, Maria has returned to take care of her children and her cancer patients.
Passage of the private bills introduced by Senator Feinstein and Congresswoman Lee would resolve the problems of Maria's family if signed into law by the President.
However, for the millions of other families in similar straights, Congress needs to enact Comprehensive Immigration Reform, something that they have avoided for the past 20 years.