H-1B Fiscal Year (FY) 2019 Cap Season
The congressionally mandated number for
H-1B
cap cases is 65,000 H-1B regular cap and 20,000 H-1B master's exemptions.
Please note that up to 6,800 visas are set aside from the 65,000 each fiscal year for the H-1B1 program for citizens of Chile and Singapore.
When should you file an H-1B cap subject case?
USCIS Fiscal Year 2019 begins on October 1, 2018, which is the first day employment is authorized for H-1B 2019 cap case filings. USCIS can begin to accept cases 180 days before H-1B employment begins, which is April 1, 2018.
April 1, 2018 is a Sunday so USCIS will begin to accept FY 2019 H-1B cap cases on April 2, 2018.
USCIS advised the following additional documents are required with the H-1B petition:
1. Labor Condition Applications (LCA)
When filing the H-1B petition a signed and certified LCA must be included and can be either original or copy.
2. Evidence of Beneficiary's Educational Background
You must submit evidence of the beneficiary's education credentials (with English translations when applicable) at the time you file your petition. If the beneficiary has met all of the requirements for a degree, but the degree has not yet been awarded, you may submit the following alternate evidence.
• A copy of the beneficiary's final transcript; or
• A letter from the registrar confirming that the beneficiary has met all of the degree requirements. If the educational institution does not have a registrar, then the letter must be signed by the person in charge of educational records where the degree will be awarded.
If you indicate that the beneficiary is qualified based on a combination of education and experience you need to provide substantiating evidence at the time you file your petition.
Client Reviews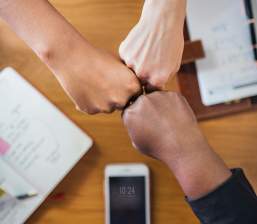 Great Work!
"We are very pleased by the services we get from the Law Offices of Carl Shusterman. Our experience in the past year with all our H1B renewals has been amazing, and we've obtained great results."
- KRG Technologies, Valencia, California
Read More Reviews
Zoom Consultations Available!
3. A Copy of the H-1B Petition
If the beneficiary will be applying for a nonimmigrant visa abroad, you should submit a copy of your
H-1B petition with your petition. If you receive a Request for Evidence (RFE) or Notice of Intent to Deny (NOID) then you should also submit a duplicate copy of your response.
If you do not submit a copy of the petition it could result in delays with processing the petition or processing a visa abroad at the U.S. Consulate.
4. Filing Fees
The fees are different depending on the type of H-1B petition you are filing. The H-1B petition I-129 form fee is $460. The American Competitiveness and Workforce Improvement Act of 1988 (ACWIA) fee is $750 for employers with 1 to 25 full-time employees and $1,500 for employers with 26 or more full-time employees, unless exempt. The fraud prevention fee is $500 and applies to all cases except Chile and Singapore H-1B1 petitions.
The check must be payable to the Department of Homeland Security, dated within the last six months, and include the proper amount and signature. USCIS prefers a separate check for each fee. If you submit one check and the combined payment is wrong, USCIS will reject the H-1B petition.
The check or checks should be stapled to the bottom right corner of the top page.
USCIS discussed and advised on the following during the call:
Premium Processing
USCIS will accept premium processing H-1B cap cases during the cap filing period. However, the 15-day processing time will be put on hold. USCIS which will announce at a later date when they will resume premium processing for the H-1B cap cases.
Premium processing will continue as usual for all other H-1B filings with USCIS
USCIS Requirements for H-1B Petitions
• USCIS Forms must have original signatures, USCIS prefers black ink be used to sign forms. USCIS suggests reviewing the February 15, 2018 Policy Memorandum for signatures on Paper Applications, Petitions, Requests and other Documents Filed with USCIS.
• The evidence submitted with the petition must establish the position is a specialty occupation and there is specialty occupation work available for the entire time requested for the petition.
• Submit evidence confirming an Employer/Employee relationship.
• Submit all evidence to support the H-1B qualifying criteria and the beneficiary's qualifications to meet the criteria.
• LCA must correspond to the position identified in the H-1 petition.
• The petitioner address listed in the first section of the form I-129 should be the primary U.S. office address for the petitioner.
• If filing for a change of status, the petition should include evidence establish the beneficiary has valid status in the United States. This evidence should include an I-94 and I-797 or any other status documents.
Make sure the following information for the beneficiary is accurate:
• Name spelled correctly
• Date of birth listed properly with correct month, day and year
• Valid passport
• Correct country of birth
• Correct country of citizenship
Submission of Petitions to USCIS
• Clearly label all H-1B cap cases in red ink on the top margin of Form I-129.
• Write "Regular Cap" on petitions subject to the 65,000-regular cap case not including Chile and Singapore.
• Write "C/S Cap" on Chile/Singapore cases.
• Write "U.S. Master's" on petitions subject to the 20,000 exemptions for beneficiaries with U.S. master's degrees or higher.
Preferred Order of Documents at Time of Submission:
1. Form G-28 (if represented by an attorney or accredited representative)
2. Form I-129, Petition for a Nonimmigrant Worker
3. Addendums/Attachments
4. H Classification Supplement to Form I-129 and/or Free Trade Supplement (for H-1B1 Chile- Singapore petitions)
5. H-1B Data Collection and Filing Fee Exemption Supplement
6. All supporting documentation to establish eligibility. Provide a table of contents for supporting documentation and tab the items as listed in the table.
7. Arrival-Departure Record (Form I-94) if the beneficiary is in the United States
8. SEVIS Form I-20 if the beneficiary is a current or former F-1 student or F-2 dependent
9. SEVIS Form DS-2019 if the beneficiary is a current or former J-1 or J-2
10. Form I-566 if the beneficiary is a current A or G nonimmigrant
11. Department of Labor certified LCA, Form ETA 9035
12. Employer/attorney/representative letter(s)
13. Other supporting documentation
14. Copy of the petition, if necessary. Clearly mark it as "COPY" so that it is not mistaken for a duplicate filing.
Additional comments for submitting H-1B petitions to USCIS
• If filing more than one petition in the same package, place petitions in separate envelopes and mark each envelope in red ink with the type of H-1B cap case.
• The case must be filed with the correct Service Center.
• Please refer to the USCIS Form I-129 web page for direct filing locations.
• If the petition is filed at the wrong Service Center the petition may be rejected
• Rejected petitions will not be accepted or counted against the cap
USCIS: Review the Following Memos Before Preparing H-1B Cases: