The most common question we get from EB immigrants is "How long before I get my green card?"
Currently, only persons with EB-3 priority dates before June 1, 2002 may apply for adjustment of status, a 7 1/2 year wait.  If you were born in India, the wait is 8 1/2 years.  See our "Visa Bulletin" page at:
You can get a feel for the enormity of the "retrogression" by comparing the current waiting times with those from past Visa Bulletins.
For example, compare the current priority dates with those listed in the June 2007 Visa Bulletin. June 2007 was the month before all the EB numbers became current. Then, the worldwide EB-3 priority date was June 1, 2005, a two-year backlog, while the EB-3 priority dates for persons born in mainland China, India and Mexico was June 1, 2003, a four-year backlog.
It is helpful to go back a bit further, say to June 2004. Believe it or not, at that time, all EB priority dates were current. That is, there were no waiting times between the approval of your labor certification and your ability to apply for adjustment of status!
As you can see, the retrogression is a comparatively recent phenomenon.
* How does the EB priority date system work?
I remember when the Immigration Act of 1990 was signed into law. The law increased the EB numbers from 56,000 to 140,000.  My clients and I were thrilled. Finally, Congress had acted to provide an adequate number of EB slots so that U.S. companies could immigrate foreign-born workers with needed skills.
The EB numbers are allocated according to the following formula:
EB-1  28.6%
EB-2  28.6% plus any unused EB-1 numbers
EB-3  28.6% plus any unused EB-1 and EB-2 numbers
EB-4   7.1%
EB-5   7.1%
In addition, no country can use more than 7% of the worldwide numbers in any of the above categories.  Therefore, nationals of a particular country are limited to no more than 9,800 EB numbers per year. Due to higher demand for EB visas from countries with large populations like China and India, the EB-2 and EB-3 backlogs often tend to be longer for persons born in these countries.
It is important to keep in mind that the 140,000 number includes not only the worker being immigrated, but the foreign-born spouse and children of the worker.
* When are persons with backlogged EB priority dates going to be able to adjust their status and become permanent residents?
At first glance, one might be inclined to state that, if the backlog is 7 1/2 to 8 1/2 years for a person in the EB-3 category, this is how long a person whose employer submitted a PERM application for him or her today will have to wait to adjust status. Similarly, a person with a pending adjustment application and a June 2005 EB-3 priority date would have to wait another three to four years to adjust status.
However, such predictions distort the way that the Visa Bulletin works. Compare looking at the Visa Bulletin to viewing the stars in the sky. If you look at the North Star through a telescope, can you tell what it looks like? You may think that you can. However, when you reflect that the North Star is 430 light years away from the Earth, you realize that what you are seeing is not what the star looks like now, but what it looked like 430 years ago. Keep this in mind when considering how long the waiting times are in the Visa Bulletin. The Visa Bulletin tells you that a person with a 7 1/2 year old EB-3 priority date may adjust status in December 2009. However, it does not predict that a person in the EB-3 category whose employer submits a PERM application today will be able to apply for adjustment of status in 7 1/2 years, nor does it predict when persons with pending applications for adjustment will become permanent residents. In other words, the Visa Bulletin tells you about the past. It does not predict the future movement of priority dates.
We will discuss how to estimate how long your real waiting time may be in the next issue of our newsletter.
In the meantime, you may wish to consult the following articles and tables which were compiled by the USCIS:
A) Questions & Answers: Pending Employment-Based Form I-485 Inventory
B) I-485 Employment-Based Inventory Statistics
C) USCIS Production Report: FY2009 Report to Congress (10-05-09)
We link to each of these documents from our "Green Cards through Employment" page at: 
https://www.shusterman.com/greencardsthroughemployment/#1
Client Reviews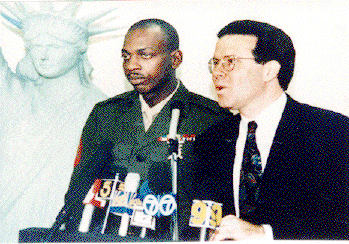 Know Their Job Well And Perform It Flawlessly
"Don't do the mistake we did and try to save few bucks going with nonprofessionals and sole practitioners! It will end up not only costing you much more in the long run, but also putting your status in jeopardy which can have a priceless impact. It is one of the most important steps in your life."
- Sgt. Danny Lightfoot, Los Angeles, California
Read More Reviews
Zoom Consultations Available!