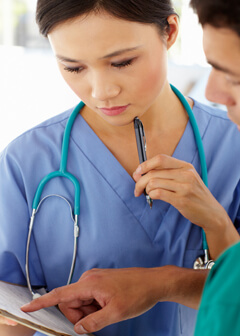 The shortage of Registered Nurses (RNs) in the U.S. continues to expand as the COVID-19 crisis drags on.  With more than half a million RNs anticipated to retire by 2022, the U.S. Bureau of Labor Statistics projects the need for 1.1 million new RNs for expansion and replacement of retirees.
U.S. nursing schools have not been able to keep up with the demand for RNs.  Now, with millions of baby boomers retiring, the shortage continues to get worse.  Almost half the registered nurses working in the U.S. are 50 years old or more.
California is the state with the most severe shortage of registered nurses in the entire country.
Fortunately, there are hundreds of thousands of foreign-born RNs working abroad who are seeking to immigrate to the U.S. We hope that this article will assist hospitals and other healthcare providers in obtaining work visas and green cards for foreign-born RNs.
In order for a foreign-born RN to be sponsored for a green card or a temporary work visa by an employer in the U.S., she/he must first:
Have a college degree in nursing, usually a B.S.N.

Have a license to work abroad as an RN

Pass one of following English Language Examinations:

Exemptions:  RNs who received their degrees in the U.S., Canada (except for Quebec Province), Australia, New Zealand, Ireland or the United Kingdom are exempt from having to take an English Exam as long as English was the language of instruction and the language of the textbooks.

Pass the National Council Licensing Examination (NCLEX).  NCLEX examinations are currently administered in the U.S., Australia, Brazil, Canada, England, Hong Kong, India, Japan, Mexico, the Philippines, Puerto Rico, South Africa, South Korea, Taiwan and Turkey

The RN will need to get a VisaScreen Certificate before she can receive a green card or a temporary work visa. However, an employer may choose to sponsor an RN for a green card or work visa even before she has passed the English Exam or received a VisaScreen Certificate. The RN can apply for a VisaScreen Certificate from either of the following organizations:


A VisaScreen Certificate insures that the RN's education and English language skills have been evaluated and found acceptable in order to work as an RN in the U.S.
Client Reviews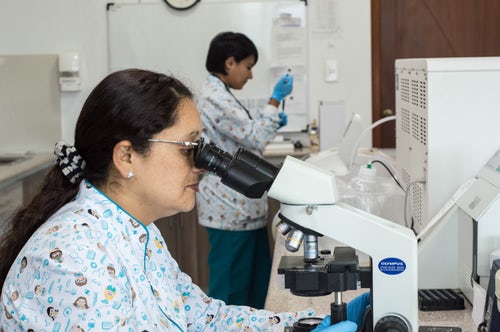 They Are About Providing Solutions
"I am an Internationally Educated Nurse petitioned by US employer and the Law Offices of Carl Shusterman helped me throughout the entire process of my IV application. They were extremely thorough with regard to the instructions and the steps that I needed."
- Francis R., Nashville, Tennessee
Read More Reviews
Zoom Consultations Available!
Green Cards for RNs
Since few RNs qualify for temporary work visas, U.S. employers need to sponsor most foreign-born RNs directly for green cards.
The good news is that the number of green cards through employment has more than doubled this fiscal year (October 1, 2021 to September 30, 2022) from 140,000 to 290,000. While it can take years to get green cards for RNs born in India or mainland China due to per-country backlogs, there are currently no backlogs for nurses born in other countries.
The U.S. Department of Labor (DOL) has designated Registered Nurses (and Physical Therapists) as Shortage Occupations.  Therefore, employers do not need to advertise their jobs or demonstrate to DOL that they are unable to find qualified American RNs in order to begin the green card process.
Employer sponsorship of an RN for a green card involves the following 5 steps:
Step One
Employers need to start the green card process by requesting a Prevailing Wage Determination (PWD) from the DOL.  This process currently takes between 5 and 6 months.
We recommend filing for a PWD every 6 months so that there is always one which is valid.
Where there is a Collective Bargaining Agreement (CBA), the DOL will defer to the wage provisions in the CBA instead of basing the PWD on DOL's Occupational Employment Statistics wage database.
Step Two
Before an employer can file a petition for an RN with the USCIS, it must provide a notice of the position it is seeking to fill to the bargaining representative.  If there is no such representative, then the employer must provide notice to its employees by posting a notice for 10 consecutive business days in a clearly visible location at the workplace.
Step Three
The employer must file an immigrant visa petition (Form I-140) with the U.S. Citizenship and Immigration Services (USCIS).  Although it can take the USCIS many months to approve a petition, the employer can expedite the process by requesting "premium processing" and paying an extra $2,500 in government filing fees.  Premium processing reduces the time that the visa petition will be acted on by the USCIS to 15 business days.
Step Four
 
If the RN resides abroad, the USCIS will send the approved I-140 visa petition to the National Visa Center (NVC) of the U.S. State Department in New Hampshire.
The NVC will request a list of documents from the RN (and nurse's spouse and children).  Once the NVC receives these documents, and the nurse's priority date (her place in line for a green card) is current, the RN will be scheduled for an immigrant visa interview at the U.S. Embassy or Consulate where she resides.
Step Five
If the RN resides abroad, she will be interviewed at a U.S. Embassy or Consulate.
She will be asked questions to make sure that she is eligible for a green card.  For example, she will be required to submit a police background check and a medical exam.  The officer will need to make sure that she is admissible to the U.S., is not a criminal, has not committed immigration fraud and doesn't have a substantial period of unlawful presence in the U.S.
Once her immigrant visa application is approved, she must come to the U.S. within 180 days.  At the airport, a Customs and Border Protection (CBP) officer will examine her documents and ask her questions.  Once the CBP officer approves her application, she will be admitted to the U.S. as a lawful permanent resident or "green card" holder.
RNs who are lawfully residing in the U.S. may file an Application for Adjustment of Status in the U.S. (Form I-485 packet).  They will receive an EAD work permit in approximately 180 days and a green card interview in about one year.
Temporary Work Visas for RNs
Opportunities for employers to sponsor RNs for temporary work visas are limited.  I testified before the U.S. Senate's Immigration Subcommittee in 2001 on the need to restore temporary work visas for RNs.
Unfortunately, the bill that I helped draft for the Committee Chairman was never enacted into law.
However, there are a couple of types of temporary work visas that some RNs may qualify for:
H-1B Professional Visas­­
If an employer can demonstrate that a B.S.N. degree or higher is a prerequisite for a job, the nurse can be sponsored for an H-1B professional visa.  The employer needs to file Form I-129 with the USCIS.  H-1B status is generally valid for 3 years and can be renewed for another 3 years, more if the RN is waiting in line for a green card.
Since many RN jobs require only the completion of an associate's degree, some H-1B petitions filed for nurses are denied by the USCIS.  However, the USCIS has approved H-1B petitions for Nurse Practitioners, Certified Registered Nurse Anesthetists, some RN Managers and Cancer Nurses.­­­­­
U.S. employers seek H-1B visas for over 200,000 professionals annually, but most employers are subject to a cap of 85,000 H-1B visas.  The winners are chosen in a random lottery in April and can start working in October if their H-1B visa petitions and visas are approved by then.  The employer can speed things up by requesting premium processing.
The following H-1B cap-exempt employers are exempt from the lottery and can sponsor persons for H-1B visas at any time:
If the job is located at an institution of higher education;
Non-profit employers "related to" an institution of higher education;
Non-profit employers "affiliated with" an institution of higher education;
Non-profit research institutions; and
Government research institutions.
Employers must agree to pay RNs at the "prevailing wage" as determined by the U.S. Department of Labor or at the "actual wage" for similarly situated nurses, whichever is higher.
The RN's spouse and unmarried children under the age of 21 may be admitted to the U.S. in H-4 status.
TN Visas
Some RNs who are citizens of Canada or Mexico may be sponsored for Trade NAFTA (TN) status by U.S. employers.
For Canadian citizens, TN status may be valid for up to 3 years, and there is no limit to the number of times that TN status may be extended. Canadian citizens are "visa exempt".  They may show their paperwork at the border or at an airport in Canada and be admitted to the U.S. in TN status.
Mexican citizens must get TN visas which are valid for 1 year.  Their employers can start the process by filing form I-129 with the USCIS. Like Canadians, there is no limit to the number of times that their TN status may be extended.
There is no prevailing wage requirement for U.S. employers of TN nurses.
The RN's spouse and unmarried children under the age of 21 may be admitted to the U.S. in Trade Dependent (TD) status.
Additional Information
Employers who need additional information about how to sponsor RNs for green cards and temporary visas can access our Nurse Immigration Guide.
Employers who have specific questions can contact me at carl@shusterman.com
Nurses can schedule a Zoom consultation with me.
You can also access U.S. Immigration for Health Care Workers including medical technologists, occupational therapists, pharmacists, physical therapists, speech language pathologists and audiologists.
Finally, since immigration laws and rules are constantly changing, you can keep up to date by subscribing to our free immigration newsletter.