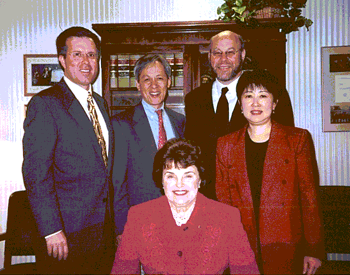 On September 28, 2023, Senator Dianne Feinstein passed away. Senator Feinstein has had a number of great achievements during her career.
However, few people know about her immigration private bills which have rescued many deserving immigrants from deportation and allowed them to continue on their path to gain lawful permanent residence in the United States.
Senator Feinstein has introduced more private immigration bills than any other member of the Senate.
Below are 3 stories of immigrants for whom Senator Feinstein has intervened on their behalf by introducing private bills.
The first case was won in Immigration Court, but Senator Feinstein's bill was a useful back-up. The second resulted in a law being signed by the President granting the immigrant a green card. The third involves a private bill that has expired and hopefully will be introduced by Senator Feinstein's successor and signed into law by the President.
Senator Feinstein Introduces Private Bill To Get Green Cards for Mr. and Mrs. Cabrera
Benjamin Cabrera arrived in the United States from his native Mexico as a teenager. Londy traveled here a few years later from Guatemala.
They married and set out to seek the American Dream. Londy gave birth to two lovely daughters, Diana and Jocelyn. They mentored their children, and both became straight-A honor students. Diana received a scholarship from Johns Hopkins University at the tender age of 11. The parents saved their money and became homeowners. They paid their income taxes.
Most of the couple's relatives, their daughters, parents, brothers and sisters, and nieces and nephews are either US citizens or permanent residents.
However, because of huge waiting times and increasingly restrictive immigration laws, the only way for the Cabreras to achieve permanent residence was to have our law firm place them before an Immigration Judge, and to ask the Judge to grant their applications for Cancellation of Removal. This was risky business since if the Cabreras were unsuccessful, they would be forced to leave the United States.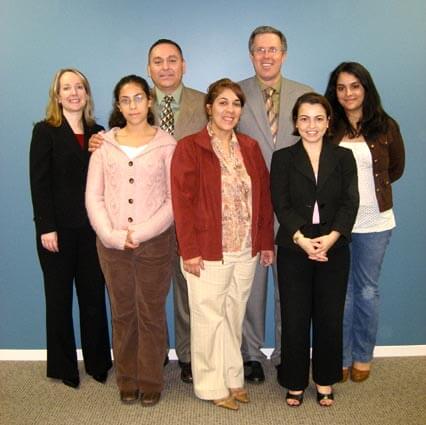 Immigration Judge Bruce Einhorn granted Mr. and Mrs. Cabrera's applications for cancellation of removal.
However, the government appealed the matter to the Board of Immigration Appeals (BIA) which overturned the Judge's decision.
In the meantime, the family's plight received widespread and sympathetic attention in the media.  Senator Diane Feinstein introduced a private bill in the Senate to grant green cards to Mr. and Mrs. Cabrera.
Fortunately, the U.S. Court of Appeals for the 9th Circuit overturned the BIA's denial and remanded the case to Judge Einhorn. Judge Einhorn again ruled in favor of the Cabreras and this time the government accepted his decision.
Had the Cabreras not won their case, Senator Feinstein's bill would have protected them from being deported, and if passed by Congress and signed into law by the President, would have granted them lawful permanent residence in the United States.
Senator Feinstein Introduces Private Bill To Get Green Card for Guy Taylor
Guy was a shy 16-year-old Canadian kid who had just become an orphan when his mother died in Vancouver. His father had died before his birth, and his entire remaining family lived in the U.S. In fact, Guy had spent half of his life living and going to public schools in Southern California.
Upon the death of his mother, he called his grandmother, a U.S. citizen, who immediately boarded a flight from Los Angeles to Vancouver and gained legal guardianship over Guy through a Canadian court.
Although Guy was permitted to enter the United States, there was no way for him to get a green card. We held a press conference, and reporter Mike Downey wrote an article about Guy's plight in the Los Angeles Times entitled "One Last Hope For A Teenager Who Desires A Break".
When this article came to the attention of Senator Feinstein, she introduced a private immigration bill in the Senate in January 2000 to give Guy a green card.
The bill was passed by both houses of Congress, and was signed into law by President Bill Clinton in November 2000.
The first thing that Guy did after getting his green card was to enlist in the Army.
Senator Feinstein Introduces Private Bill On Behalf of Cancer Nurse
Maria Mendoza Sanchez had lived in this country for 20+ years, has 4 children, 3 of whom are US citizens. Her oldest daughter who is on DACA graduated from UC Santa Cruz with nearly straight A's. Her second daughter had a 3.74 GPA at the same university. She has graduated and, like her mother, is working as a registered nurse.
When Mrs. Sanchez applied for cancellation of removal, her application was denied by an Immigration Judge who ruled that even though her U.S. citizen son was born with a hole in his heart, and she was supporting her citizen children, this did not meet the "exceptional and extremely unusual hardship" test.
Despite this, she was granted an EAD work permit which she renewed on a yearly basis.
Unfortunately, when Trump became the President in 2017, she was informed that she had 90 days to "self-deport" to Mexico or she would be arrested and detained by ICE.
She called me and we did a press conference in the morning from her house in Oakland, California. Senator Feinstein arrived at her house in the afternoon, and let us know that she was going to introduce a private bill on behalf of Mrs. Sanchez.

We both thanked Senator Feinstein.  I let her know that ICE had recently changed its policy stating that it was no longer prohibited from deporting a person who had a private bill pending on their behalf. Soon thereafter, Senators Feinstein and Durbin issued a statement in response to ICE's decision to discontinue a decades-long bipartisan policy of issuing stays of removal for private immigration bills.
And although Senator Feinstein introduced a private bill on behalf of Mrs. Sanchez, ICE refused to honor the bill, and Mrs. Sanchez was forced to self-deport herself to Mexico.
Fortunately, the public hospital where Mrs. Sanchez worked sponsored her for an H-1B temporary working visa. She was selected in the H-1B lottery and her petition was approved. She was granted a nonimmigrant waiver, and has been able to return to the U.S. to work as a cancer nurse and to live together with her children.
Her adult U.S. citizen daughter filed a visa petition for her and it has been approved. However, she is ineligible for an unlawful presence waiver since she has no qualifying relatives.
When her H-1B status expires, she will be forced to leave the U.S. unless a private bill is again introduced on her behalf, passes Congress and is signed into law by the President.
She is hoping that Senator Feinstein's successor will take the lead in introducing a private bill on her behalf.