Q1. I've heard that AC-21 was recently signed by the President to raise the H-1B Cap. How much does the law raise the cap?
A. Prior to AC-21 , the cap was 115,000 per year. The new law, which was passed by both the Senate and the House of Representatives on October 3 and signed by the President on October 17, 2000 raises the cap to 195,000 for each of the next three years.
In addition, AC-21 allocates most H-1Bs which were already filed or approved to the quotas for prior years.
Finally, some H-1B approvals are not subject to the cap. Prior law exempted the following types of H-1B petitions from the cap: extensions of H-1B status, petitions for concurrent employment where the worker is presently in H-1B status, and petitions to change employers. The new law adds the following exemptions: (1) H-1Bs sponsored by institutes of higher education (or a related or affiliated nonprofit entity) and government or nonprofit research organizations (6,000 – 10,000 per year); (2) H-1Bs for physicians who received J waivers under a Conrad State 20 Program (800+ annually).
Q2. What is the name of this new law and when will it become effective?
A. The new law is entitled the  
Q3. Does AC-21 allow certain persons to extend their H-1B status for more than six years?
A. Yes. Section 104(c) allows ANY alien (1) who is the beneficiary of a FILED EB-1, EB-2 or EB-3 visa petition; and (2) would be eligible to apply for permanent residence except for the application of per-country limitations (e.g. born in India or mainland China) to apply to the INS for extensions of nonimmigrant status until his or her adjustment of status application has been adjudicated. Beware, the law states that the application "may" be approved. This means that it may be denied as well.
Section 106 contains special provisions requiring the INS to grant extensions, in one-year increments, past the six-year maximum, in cases of lengthy adjudications. This section only applies to (1) H-1B workers, (2) who are the beneficiaries of EB visa petitions or who have submitted applications for adjustment of status, and only if (3) 365 days or more have elapsed since (a) the filing of an application for a labor certification on their behalf or (b) the filing of an EB visa petition on their behalf. Notice that an H-1B worker whose application in still in the labor certification stage is NOT eligible for an extension under this section.
Q4. I have heard that AC-21 abolishes per country quotas. Is this true?
A. Section 104 alters, but does not abolish, per country quotas. Prior law limited the number of employment-based immigrant visas to just under 10,000 annually per country. The new law, on a quarterly basis, allows the use of unused EB visas by persons born in backlogged countries like India and mainland China.
Q5. Does AC-21 allow more persons to immigrate through the EB categories?
A. Yes. While AC-21 does not actually increase the EB quotas, section 106 allows for the more than 100,000 EB visas which were lost in fiscal years 1999 and 2000 due to INS processing delays to be "recaptured" as long as there is excess demand in the EB-1, EB-2 and EB-3 categories.
Q6. Does the law make it easier for an H-1B worker to change employers?
A. Yes it does. Section 105 allows an H-1B worker to change employers as soon as his or her new employer submits a "nonfrivolous" H-1B petition to the INS. Prior law requires that a worker wait until the petition is approved before changing employers.
Q7. Is there a provision in the law which allows a person with a pending application for adjustment of status to change employers?
A. Yes, this exciting development resulted from a last-minute amendment to AC-21. Currently, most applicants for adjustment of status must wait between two and three years before their applications are approved. They were obliged to work for the employer who sponsored them for permanent residence.
Under section 106(c) of AC-21, after an application for adjustment of status for a person sponsored under an EB category remains unadjudicated for over 180 days, the individual is free to change jobs as long as the new job "is in the same or a similar occupational classification as the job for which the petition is filed".
Q8. I heard that AC-21 will help reduce INS backlogs. Is this correct?
A. We certainly hope so! Senator Feinstein's (D-CA) "Immigration Services and Infrastructure Improvements Act of 2000" was added as an amendment to AC-21.
Senator Feinstein's amendment expresses the "sense of Congress" that processing times for immigration benefits should not exceed 180 days, and that petitions for temporary visas should be processed in 30 days or less. The law establishes an "Immigration Services and Infrastructure Improvement Account" to assist the INS in reducing backlogs. INS will be required to report to the Congress on a regular basis on what the agency is doing to come into compliance with the legislation, and to provide the Congress with detailed statistical reports.
Of course, much depends on how much money Congress earmarks for INS backlog reduction in the agency's appropriations bill.
Q9. Will the filing fees for an H-1B petition remain the same?
A. No. Although AC-21 does not raise the current $610 filing file, another law will raise the filing fees by another $500. Most of the funds raised by the new fee will be earmarked for the education and training of U.S. workers for high technology and science jobs.
Q10. After all our efforts lobbying for the new law, isn't this a good time to declare victory, and forget about politics for a while?
A. Not so fast! Restrictive INS and DOL regulations could destroy many of the benefits provided by the law, just as was done by the recent INS regulations regarding National Interest Waivers for physicians.
Secondly, although the inclusion of the "recapture" provisions should result in a substantial improvement in the Visa Bulletin waiting times for a year or two, don't let the present euphoria blind you from viewing the problem in perspective. Congress needs to substantially increase the amount of EB-1, EB-2 and EB-3 numbers before the recaptured numbers are used up.
To paraphrase a famous American: "We have just begun to fight!"
Client Reviews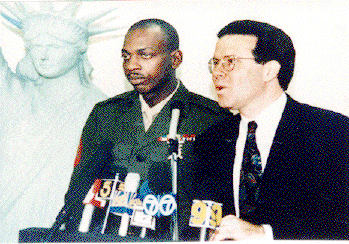 Know Their Job Well And Perform It Flawlessly
"Don't do the mistake we did and try to save few bucks going with nonprofessionals and sole practitioners! It will end up not only costing you much more in the long run, but also putting your status in jeopardy which can have a priceless impact. It is one of the most important steps in your life."
- Sgt. Danny Lightfoot, Los Angeles, California
Read More Reviews
Skype Consultations Available!
Over 100 Years of Immigration Experience Working for You
What Can We Help You With - Videos
Green Cards through Employment
Green Card through Marriage
---
Carl Shusterman
Carl Shusterman served as an INS Trial Attorney (1976-82) before opening a firm specializing exclusively in US immigration law. He is a Certified Specialist in Immigration Law who has testified as an expert witness before the US Senate Immigration Subcommittee. Carl was featured in the February 2018 edition of SuperLawyers Magazine.
Rate this page:
---