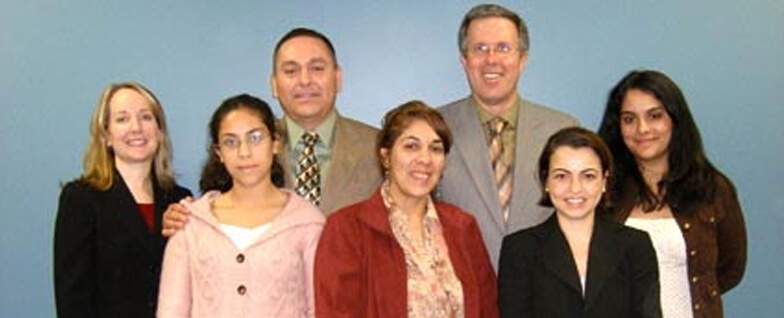 Great Lawyers and Staff
Mr. Carl Michael Shusterman's firm helped with my Green Card interview process, and I successfully obtained my Green Card soon after. I was very impressed by Mr. Shusterman and his associates' knowledge, confidence, professionalism, kindness and endless efforts to help with every step of the interview (from preparation, documents, interview, to follow ups.) I would like to express my special appreciation to attorney Ellen Lee and Judy who were extremely hands-on on my case. Their fast responses to my requests, their years of experience and confidence, and their very kindness and patience towards me always made me feel at home. Thank you! I would very much recommend this firm to anyone.
Nicole | Orlando, FL
Best Immigration Firm
I had sought help from two other immigration attorneys' before a fellow associate recommended attorney Carl Shusterman. Carl and his staff, attorney Rajakrishna Iyer and Senior Paralegal Jay Pounders were wonderful, professional, with a thorough understanding of the immigration process for obtaining visa's for artists. As they expedited our case with the utmost confidence and speed, we are truly grateful for their hard work and guidance throughout the proceedings. I highly commend and recommend Mr Shusterman's law firm for all immigration issues.
T.B. | Marina Del Rey, CA
Best In The Business
I can honestly say that Mr. Carl Shusterman and his team are probably the best in the business when it comes to immigration matters. Carl's greatest asset is his prior work experience as a former ins attorney. My family and I were on the verge of being deported from the United States. Because of Carl's expertise and dedication, not only are we allowed to remain in this country permanently but are on path of obtaining citizenship. Carl is very professional and caring when it comes to explaining legal matters to his clients. Carl will always put you at ease. He even allowed us to call him at home on evenings and weekends for urgent matters. Now, that's impressive.
We also have had the pleasure to work with his other team members (Elif Keles and Ellen Lee). Because of their tireless efforts, our immigration issues were resolved in a matter of months instead of years.
It is without a doubt that we will strongly recommend Carl Shusterman to others. After all, whether or not you get to stay in this country is all dependent on the competency of your attorney. And this is something you don't want to compromise.
A.P. | Encino, CA
Outstanding Immigration Attorney
Mr. Shusterman and his team of attorneys are outstanding and clearly some of the best in the field of immigration law, based on our experience. We (my spouse and I) recently got our Green cards approved with Mr. Shusterman's office representing us. After being stuck in the black hole of immigration backlog for many years, we had almost given up hope for any resolution soon, until we got in touch with Mr. Shusterman. He assured us that cross-chargeability would work in our case and that there was light at the end of the tunnel. Throughout the course of our consultations, I came to know Mr. Shusterman as an extremely knowledgeable and experienced attorney. His approach was realistic coupled with optimism. We were given the entire, bigger picture, before focusing on the specifics of our case, which gave us a sound understanding of the whole, and confidence in Mr. Shusterman's ability to pursue our case. I appreciate their office for being approachable, extremely professional and pushing relentlessly for the success of our filing. Personally, I do not feel we could be in better hands, and sometimes regret that we could've easily shaved off at least a year of waiting in the backlog if we had approached them earlier. Can't thank them enough. Highly recommended!
Michael | Portland, OR
For Best Results, Hire The Best
At the time I hired Carl Shusterman in 2006 to assist me with my application for US citizenship, I had been a Legal Permanent Resident (LPR). The most important issue that blocked my path to citizenship was the fact that I had lived a long, long long time out of the United Stated after becoming an LPR in 1971. Acting on Mr. Shusterman's sage advice, I was able to collect documents that suggested I had intended to maintain family, social, and financial ties to the United States. Accompanied by one of Mr. Shusterman's staff immigration attorneys, I sailed through my citizenship interview and passed the citizenship test without difficulty.
Many months later, the real value of the service Mr. Shusterman provides was highlighted when the US Citizenship and Immigration Services (USCIS) had still refused to decide whether to grant my naturalization. USCIS hadn't decided on my case because the FBI had not completed its background check, notwithstanding the fact that USCIS is required by law to grant or deny citizenship applications within 120 days after completing the naturalization interview.
With only weeks left left before my fingerprints for the FBI background check were to expire, (meaning that I would have to go to the back of the background-check line and wait all over again), Mr. Shusterman's crack litigation attorney, Amy Prokop came to the rescue.
On my behalf, Ms. Prokop filed a petition for mandamus relief with US federal district court asking the court to order USCIS to make a decision on my citizenship application. The suit spurred the USCIS mandarins to make their decision.
Thanks to Mr. Shusterman and Ms. Prokop, I was sworn in to become a proud US citizen. I highly recommend Mr. Shusterman for anyone needing a trustworthy and knowledgeable immigration attorney.
John L. | Seattle, WA
I Believe This is the Best Law Firm Anyone Can Ask For
I would like to commend Atty Carl Shusterman, Atty Ellen Lee and Senior Paralegal, Elsa Garcia for the efforts they made for my immigration case. Their competence with their job is outstanding.
Elsa was always prompt in addressing our concerns thru email and phone. She is somebody you can rely on when it comes to government immigration forms and other requirements.
Atty Lee's expetise was truly remarkable. We had a brief meeting with her before our interview because she wants to make sure we have the right documents. She also told us what to expect in the interview and that surely relieved our anxiety.
I would also thank the most Atty Shusterman for being a great lawyer who always takes time to know his clients personally. I believe this is the best law firm anyone can ask for. I've heard from one of the videos of Atty Shusterman, dealing with immigration is like an operation, you wouldn't operate on yourself alone, you need a surgeon to do it. Atty Shusterman you are the best "surgeon" , leading the whole team towards a successful "operation".
J.L. | Los Angeles, CA
A Life Changing Law Firm
My family and I were former clients of Mr. Carl Shusterman and I can honestly say that he had a tremendous impact on our lives – a very positive one. Maybe some of you have heard of us, as we were in the newspapers and media sources and it was thanks to Mr. Shusterman and his wonderful paralegals that we were able to overcome many of the obstacles that immigration lay in our path. My name is Diana Cabrera and I am now 17 years old but when my parents filed their case I was about 10 years old. I was truly very young and had to endure many difficult experiences; however, I had complete and utter faith in Mr. Shusterman and his work. He inspired in me the will to fight and to continue and to pursue my dreams. He was a tremendous source of comfort often contacting us to let us know the stage that we were found in. Even when my parents had been denied and they had been told to pack and get out of this country, Mr. Shusterman rushed to find an alternative in order to ensure that my parents could stay. It is important to understand that there are not only a couple of people filing for a permanent resident card, there are millions and so the process can be a lengthy one. However, Mr. Shusterman was with us every step of the way ensuring that everything was filed correctly and on time and even asking for more in order to have more evidence with which to aid our case. For a quick summary of what we had to go through and the time that it took to finalize our case please click on this link: Cabrera Family Wins Right to Remain in U.S. It is understandable that some people wish and have the idea that everything shall be resolved quickly, however this is not true and it takes time to go through the entire process. Overall I can say that Mr. Shusterman and his colleagues were wonderful, supportive, and very dedicated people. Something that my mom shall never forget is that there was not only one attorney working on the case but rather a combination of attorneys all with their special expertise. It is that which distinguishes Mr. Shusterman's firm from the rest and he genuinely cares about his clients; further evidence of his dedication and wonderful service is that if you review our case, during our court meetings there was not only one attorney representing us. In fact there were various and they were all very helpful and warm and loving and caring. If you have any questions for me that you would like me to answer please feel free to contact me at crazy_coconut9294@yahoo.com. I will be more than happy to answer your questions.
Diana Cabrera | Reno, NV
Professional that I can trust
I am very happy that Belma took over my case. I had I-360 (Vawa) based AOS, and I know that many attorneys would just disregard my fears and my desire to have perfect set of documents. Belma surprised me with providing so much knowledge and detailed expertise to my case. It is common for my type of case to get RFE after interview because there is so much more paperwork and change that can affect the outcome or postpone the Adjustment of Status. Belma prepared very organized and detailed paperwork, that allowed the immigration officer quickly to make a positive decision, no delays, no RFEs. She just knew what she was doing. In addition, she was emotionally present and I felt that she really cares, and that is a definition of the perfect lawyer! I recommend her, especially to you VAWA people, because she is very knowledgable, well informed (which is not always the case with attorneys), she has great ethics, and she will pay attention to your needs!
Kate | Former Client
Efficient But Friendly
I am excited to recommend Belma Demirovic Chinchoy. She has been very efficient but friendly. Professional yet sensitive and kind through my whole immigration process. Its long and complicated, but she made everything very clear from the start, and we worked on every step together.
Sergio Marcos | CEO Calanda Films
Excellent Lawyer
Mr. Shusterman is an excellent lawyer. He explained my rights and also my responsibilities to me. He is not only very knowledgeable, but also very culturally-sensitive. Mr. Shusterman has a very good heart and is always willing to help the under-served. I recommend him without any hesitation.
I.H. | Buffalo, NY
What Can We Help You With - videos
Green Cards Through Employment
Green Cards Through Marriage