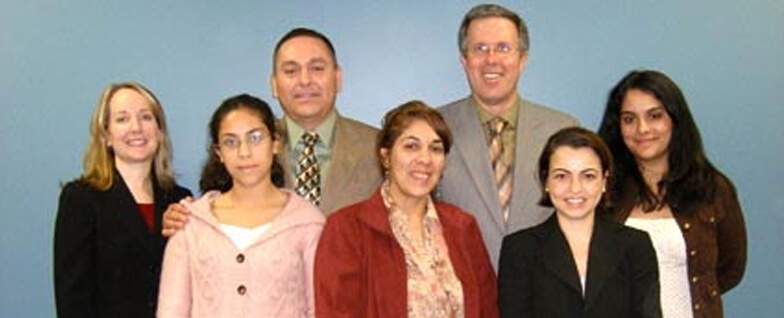 Highly Recommended
I needed an immigration law office to help me obtain a green card visa to be able to work as an RN in the US. The paralegal assigned to me was Anna Cruz who has been really helpful every step of the way. I was able to get a green card in less than six months after my hospital filed for petition. I am forever grateful for all the assistance.
Melissa | Santa Fe, NM
We Would Not Think of Going to Anyone Else
My situation was complicated for all the wrong reasons and even my own consulate did not help me, however, when my children approached Atty. Shusterman's office, he not only patiently granted them an audience, studied the case in its entire detail before suggesting the different options open to them, he assured them that the United States of America and the laws / legal system herein, was diligent enough to protect the rights of all its residents and citizens and their immediate relatives.
Attorney Shusterman put my case in the able hands of Atty Ellen Lee who worked very closely and persistently with my children to get all my paperwork together by suggesting the alternatives for the unavailability of certain documents (due to the fact there was no record-keeping in India during the time of my birth etc.). I am a heart patient and have several health complications and when my 485 interview came up, I was extremely tense and worried since the general norm Is to grant approval without an interview. My children asked me not to worry since Atty. Lee would be here by my side to help represent my case to the adjudicating officer. Although the situation was a little worrisome, as my children informed me later, Atty. Lee just kept assuring me all along during the time of my prep that there was nothing to worry, even if I was not very comfortable speaking English, to tell the truth, to not deny my genuine ignorance on certain issues which led to the complexity of my case etc. She kept a keen eye on my health situation and was very perceptive of my feelings and anxiety. At the interview, I could not have asked for someone better to represent me, because she made me feel completely assured, by the easy manner in which she talked to the Adjudicating officers, presented the problems with the corrupt bureaucracy in my country, and what were the possible options and all the documentation we had provided etc. Needless to say, the officers were convinced of my helpless situation and I truly thank the US of A for being so supportive of its citizens and residents, and after a new technology test that they asked me to undergo, which proved my position, as suggested by Atty. Lee based on her knowledge of the system, my case was approved and I received my Green Card last week, less than eight months from the date of my application.
My children found Atty. Shusterman on Google in their search of top immigration attorneys in 2006, after some local bay area immigration consultants and attorneys swindled us of a lot of money and yet almost botched up my case. However, after we came to the Law offices of Carl Shusterman, every situation, every challenge, every option was explored in detail, not only by the Atty. Shusterman himself, his able associates, Elif Keles and Ellen Lee.They are worth every penny that we spent as some of the previous reviewers have mentioned. We would not think of going to anyone else for our future immigration needs. Its not just about being knowledgeable and professional – it is about taking a personal interest in the well-being of their clients, no matter how complex the situation that makes Atty Shusterman and his associates like Atty Ellen Lee are the best in what they do.
Mahima S. | Milpitas, CA
EB-5 Victory!
We came to Belma when we realized our EB-5 application was likely to get denied. Belma was engaged with us every step of the process. Belma's diligence and open line of communication helped me to rework and prepare the best EB5 application possible. Belma found experts to augment the application we filed, filed supplemental documents with immigration and made sure we did not lose our place in EB-5 line.
She advocated tirelessly with Immigration to get a decision on our EB5 application. Belma's transparency and clear commitment to my investment and application left no doubt that she had my own success in mind.
Frank | Current Client
Kudos Galore to Your Staff
Dear Mr. Shusterman,
Words are inadequate to express my absolute appreaciation to your law firm for handlingmy US citizenship process. I remember how touched I was by your kind voice and reassuring words when we spoke (preliminary phone interview). I knew then I had selected the right law firm.
Kudos galore to your staff, especially to attorney Ms. Ellen Lee and assistant Ana Cruz. Their professionalism and compassion helped me through my periods of anxiety. I will always consider the attorney as my earth angel.
Please convey my sincere appreciation to an incredulous , caring attorney– Ms. Ellen Lee.
I am now a proud U.S. Citizen because of their efforts on behalf of your law firm.
Sincerely,
S. Singh | Walnut, CA
Hire Them Only if You Want to Get the Job Done
My husband and I would like to extend our sincerest "Thank you" to Attorney Ellen Lee. Our case was probably extremely challenging given our age difference, ethnicity and religion; we were scrutinized heavily during our immigration green card process. When we received the intent to deny letter, we researched and found who we believed and suspected that could help us. We were interviewed by Mr. Shusterman, and Ellen took the case…Ellen was tough. She made sure we were a real couple. Once we had her approval, we had a good feeling we had the right person who would fight for us…Ellen certainly did. She was our hero; we collaboratively put together a response to the intent to deny. In short, Ellen single-handedly won our case due to her many years of experience and reputation. We cannot even begin to express our gratitude to Ellen.
The Best Team of Immigration Lawyers in the Whole World
I almost lost hope on my situation until I was referred to Carl Shusterman by my job. Carl Shusterman is a very good listener, understood my situation , and assigned his wonderful lawyer Amy Prokop and paralegal Maria Cobian to attend my case. They were very passionate and always kept me informed. To my greatest surprise, my situation was turned around in 10 days. I strongly recommend Carl Shusterman to everybody with immigration problems. He has the answer to all. I don't know what I could have done without Carl Shusterman and his wonderful team.
Felicia | Atlanta, GA
Best experience so far in terms of legal services….
I got to know of Belma through a friend of mine who had some legal work done by her. This friend had very high praises for her. I decided to use Belma for Immigration work for my Fiancée's immigration paperwork. She did an excellent job. I decided to use her again for my mother's paper work. Again the same result.
Belma is very personable, very knowledgeable, process oriented and methodical. You can be assured that the services she provides you will be top notch, executed at a very fast pace and a very thorough fashion.
Khalid | Former Client
Carl Shusterman Law Office , The Best Choice!!!!
The Law Offices of Carl Shusterman is the best. I recommend it. I give credit to Atty. Ellen Ma Lee, Atty. Amy Prokop and Paralegal Ana Cruz for their efforts in obtaining my citizenship. All of the staff members were very knowledgeable, understanding, and caring of their client' feelings. It is guaranteed that they will never put you down. This office is very experienced in immigration issues. Also, they can be contacted anytime, especially when you are feeling stressed and tense. They are at your side, considering you as family. Their payment plan is the best- very reasonable; it won't hurt your pocket. Your immigration problem is solved without difficulty. Their service is fast and excellent!!. I am very happy that this immigration law office represented me. I rate them as an "A" plus" law office. I want to recommend to others to go to this office for their immigration problems…..No regrets!!!
Nancy | Columbus, OH
A Life Changing Law Firm
My family and I were former clients of Mr. Carl Shusterman and I can honestly say that he had a tremendous impact on our lives – a very positive one. Maybe some of you have heard of us, as we were in the newspapers and media sources and it was thanks to Mr. Shusterman and his wonderful paralegals that we were able to overcome many of the obstacles that immigration lay in our path. My name is Diana Cabrera and I am now 17 years old but when my parents filed their case I was about 10 years old. I was truly very young and had to endure many difficult experiences; however, I had complete and utter faith in Mr. Shusterman and his work. He inspired in me the will to fight and to continue and to pursue my dreams. He was a tremendous source of comfort often contacting us to let us know the stage that we were found in. Even when my parents had been denied and they had been told to pack and get out of this country, Mr. Shusterman rushed to find an alternative in order to ensure that my parents could stay. It is important to understand that there are not only a couple of people filing for a permanent resident card, there are millions and so the process can be a lengthy one. However, Mr. Shusterman was with us every step of the way ensuring that everything was filed correctly and on time and even asking for more in order to have more evidence with which to aid our case. For a quick summary of what we had to go through and the time that it took to finalize our case please click on this link: Cabrera Family Wins Right to Remain in U.S. It is understandable that some people wish and have the idea that everything shall be resolved quickly, however this is not true and it takes time to go through the entire process. Overall I can say that Mr. Shusterman and his colleagues were wonderful, supportive, and very dedicated people. Something that my mom shall never forget is that there was not only one attorney working on the case but rather a combination of attorneys all with their special expertise. It is that which distinguishes Mr. Shusterman's firm from the rest and he genuinely cares about his clients; further evidence of his dedication and wonderful service is that if you review our case, during our court meetings there was not only one attorney representing us. In fact there were various and they were all very helpful and warm and loving and caring. If you have any questions for me that you would like me to answer please feel free to contact me at crazy_coconut9294@yahoo.com. I will be more than happy to answer your questions.
Diana Cabrera | Reno, NV
I am very grateful to Carl Shusterman and his staff.
I am now a US citizen with a stable job, working 3 days a week and enjoying America. As I look back I am very grateful to Carl Shusterman and his staff who were with us during the immigration process. We did not know what to do or what to expect. Ellen Lee one of Shusterman's lawyers explained and answered our questions by e- mail and kept us informed. Ana Cruz the paralegal updated us. Carl Shusterman made the payments easy for us (monthly installments) which did help a lot since I did not have a job until I got an ins work permit which came about 5 weeks after our papers were filed.
E.B. | Bakersfield, CA
What Can We Help You With - videos
Green Cards Through Employment
Green Cards Through Marriage