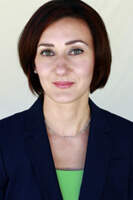 Belma Chinchoy has helped investors and projects that have ranged from a $180 million development in New York to a $1 million direct investment in a California vineyard-related operation. She specializes in working with individual investors and businesses to prepare and file EB-5 petitions.
Belma Chinchoy's deep familiarity with USCIS's Requests for Evidence (RFE) provides sound and strategic counsel for her clients and enables them to prepare petitions that are approvable upon filing. In addition to preparing numerous initial EB-5 petitions for investors (I-526) and petitions to remove conditions on conditional residence (I-829), Belma has had extensive experience advising businesses on EB-5 compliance and providing guidance for establishing EB-5 regional centers. Prior to joining the Law Offices of Carl Shusterman, she was a practicing attorney in a large EB-5 firm where she and her team focused on responding to complex EB-5 RFEs.
Client Reviews


Very efficient and professional!
"Belma is very knowledgeable in EB5 and Business Immigration law. Not only she is a warm a nice person, but she handles cases throughly with the help of her staff and the results are amazing. She is highly talented an a very good lawyer. I believe Belma is absolutely the best EB5 and Business Immigration law attorney in the States.."
Skype Consultations Available!
With a detailed understanding of EB-5 law and USCIS policies, Belma's goal is to create successful EB-5 petitions and an approachable EB-5 process for individual investors and business entities.
Belma Chinchoy is a member of the State Bar of California and is admitted to practice law before the Supreme Court of California and California Central District Federal Court. She attended both William Mitchell College of Law in Minnesota and Pepperdine University Law School in California. She received her Bachelor of Arts degree in International Politics, summa cum laude, from the University of Minnesota. When not practicing law, Belma enjoys hiking with her family and her doberman, cooking, and learning about culture and history through travel.

Belma Demirovic Chinchoy – Success Stories
Over 100 Years of Immigration Experience Working for You
What Can We Help You With - Videos
Green Cards through Employment
Green Card through Marriage
---
Carl Shusterman
Carl Shusterman served as an INS Trial Attorney (1976-82) before opening a firm specializing exclusively in US immigration law. He is a Certified Specialist in Immigration Law who has testified as an expert witness before the US Senate Immigration Subcommittee. Carl was featured in the February 2018 edition of SuperLawyers Magazine.
Rate this page:
---