Since the passage of the Immigration Act of 1990, INS refrained from publishing any precedent decisions regarding how to qualify for a National Interest Waiver (NIW)…until now. On August 7, 1998, the INS finally decided to provide some guidance on NIWs, and the decision, Matter of New York State Dept. Of Transportation, is quite restrictive.
National Interest Waivers


The 1990 law provides that persons in the professions holding advanced degrees, or persons of exceptional ability in the arts, sciences or business, whose work would benefit the national economy, cultural or educational interests of the U.S. would be exempted from the requirement that they obtain a job offer from a U.S. employer, and hence avoid the long and tedious labor certification process, if this would be in the "national interest" of the U.S. Beyond this general statement, little guidance from the INS was provided. Our law firm applied for "NIWs" sparingly, about ten times per year. I can only remember receiving one denial, for a specialist in waste water management who insisted, against my advice, in applying for an NIW. Apparently, according to a article in the Wall Street Journal, others were more adventurous: Korean golf-course designers, Russian ballroom dancers, Ghanaian drum makers and Venezuelan child psychologists all applied, and in many cases were granted, NIWs. Perhaps because of the deluge of NIW petitions received by the INS, the agency decided to tighten the standards for qualifying for a National Interest Waiver.
The Current Standard
The case involves a civil engineer employed since 1993 by the New York State Department of Transportation. He holds an M.S. in Civil Engineering (Structures) from Iowa State University and his expertise is in the "prestressed concrete construction and design of post-tensioning and of curved bridges." His application was initially denied by INS's Vermont Service Center and, more recently, by INS's Acting Associate Commissioner for Programs in Washington, D.C. The decision is lengthy, but the new standards for approval of an NIW may be stated summarily:
It must be shown that the alien seeks employment in an "area of substantial intrinsic merit".The INS held that the engineering of bridges fulfills this criteria.
It must show that the proposed benefit is "national in scope".Here, the INS held that although the alien's employment was limited to a specific geographical area, New York's bridges and roads connect to the state and national transportation system. The INS went on to state that the proper maintenance and operation of these bridges and roads serve the interest of other regions of the U.S.
The petitioner seeking the waiver must persuasively demonstrate that the national interest would be adversely affected if a labor certification were required for the alien.The labor certification process exists to protect U.S. workers from foreign competition. If any U.S. worker meets the minimum qualifications for the job and is available to take the job, the employer will not be granted an alien labor certification. The INS opines in it's decision that "an alien seeking exemption from this process must present a national benefit so great as to outweigh the national interest inherent in the labor certification process". The INS goes on to state that "with regard to the unavailability of qualified workers, the job offer based on national interest is not warranted solely for the purpose of ameliorating a local labor shortage".
After reviewing the evidence presented in the instant case, the INS concluded that the petitioner had not meet this last requirement.
What Does This Mean to You?
This decision makes it more difficult, but certainly not impossible, to qualify for permanent residence through a National Interest Waiver. Our law firm has successfully obtained National Interest Waivers for a number of scientists and researchers who have demonstrated that if they were not able to continue with a particular project, our national interest would be adversely affected, and that a minimally-qualified worker would not be able to fill their positions. You should carefully examine whether you are qualified for any of the following categories for permanent residence through employment: Persons of Extraordinary Ability, Outstanding Professors and Researchers, Multinational Managers and Executives and Religious Workers. You should also explore other immigrant options including petitions from close relatives who are U.S. citizens or permanent residents, green cards through investments, and the visa lottery program.
Client Reviews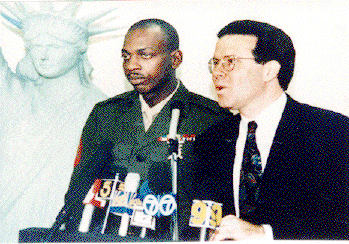 Know Their Job Well And Perform It Flawlessly
"Don't do the mistake we did and try to save few bucks going with nonprofessionals and sole practitioners! It will end up not only costing you much more in the long run, but also putting your status in jeopardy which can have a priceless impact. It is one of the most important steps in your life."
- Sgt. Danny Lightfoot, Los Angeles, California
Read More Reviews
Skype Consultations Available!
Over 100 Years of Immigration Experience Working for You
What Can We Help You With - Videos
Green Cards through Employment
Green Card through Marriage
---
Carl Shusterman
Carl Shusterman served as an INS Trial Attorney (1976-82) before opening a firm specializing exclusively in US immigration law. He is a Certified Specialist in Immigration Law who has testified as an expert witness before the US Senate Immigration Subcommittee. Carl was featured in the February 2018 edition of SuperLawyers Magazine.
Rate this page:
---