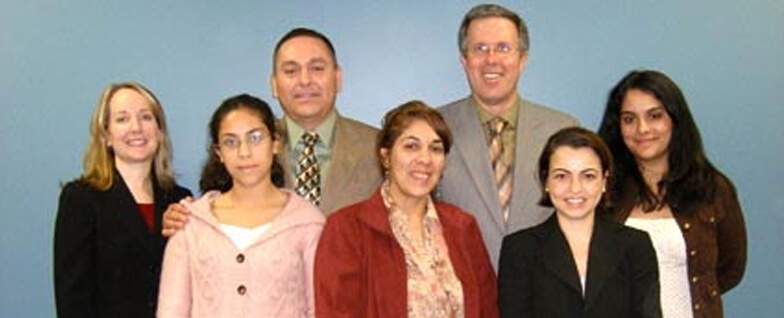 For Best Results, Hire The Best
At the time I hired Carl Shusterman in 2006 to assist me with my application for US citizenship, I had been a US legal permanent resident. The most important issue that blocked my path to citizenship was the fact that I had lived a long, long long time out of the United Stated after becoming an LPR in 1971. Acting on Mr. Shusterman's sage advice, I was able to collect documents that suggested I had intended to maintain family, social, and financial ties to the United States. Accompanied by one of Mr. Shusterman's staff immigration attorneys in Los Angeles, I sailed through my citizenship interview and passed the America citizenship test without difficulty.
Many months later, the real value of the service Mr. Shusterman provides was highlighted when the US Citizenship and Immigration Services (USCIS) had still refused to decide whether to grant my naturalization. USCIS hadn't decided on my case because the FBI had not completed its background check, notwithstanding the fact that USCIS is required by law to grant or deny citizenship applications within 120 days after completing the naturalization interview.
With only weeks left left before my fingerprints for the FBI background check were to expire, (meaning that I would have to go to the back of the background-check line and wait all over again), Mr. Shusterman's crack litigation attorney, Amy Prokop came to the rescue.
On my behalf, Ms. Prokop filed a petition for mandamus relief with US federal district court asking the court to order USCIS to make a decision on my American citizenship application. The suit spurred the USCIS mandarins to make their decision.
Thanks to Mr. Shusterman and Ms. Prokop, I was sworn in to become a proud US citizen. I highly recommend Mr. Shusterman for anyone needing a trustworthy and knowledgeable Los Angeles immigration attorney.
 John L. | Seattle, WA
I Believe This is the Best Law Firm Anyone Can Ask For
I would like to commend Atty Carl Shusterman, Atty Ellen Lee and Senior Paralegal, Elsa Garcia for the efforts they made for my immigration case. Their competence with their job is outstanding.
Elsa was always prompt in addressing our concerns thru email and phone. She is somebody you can rely on when it comes to government immigration forms and other requirements.
Atty Lee's expetise was truly remarkable. We had a brief meeting with her before our interview because she wants to make sure we have the right documents. She also told us what to expect in the interview and that surely relieved our anxiety.
I would also thank the most Atty Shusterman for being a great lawyer who always takes time to know his clients personally. I believe this is the best law firm anyone can ask for. I've heard from one of the videos of Atty Shusterman, dealing with immigration is like an operation, you wouldn't operate on yourself alone, you need a surgeon to do it. Atty Shusterman you are the best "surgeon" , leading the whole team towards a successful "operation".
J.L. | Los Angeles, CA
Best In The Business
I can honestly say that Mr. Carl Shusterman and his team are probably the best in the business when it comes to immigration matters. Carl's greatest asset is his prior work experience as a former ins attorney. My family and I were on the verge of being deported from the United States. Because of Carl's expertise and dedication, not only are we allowed to remain in this country permanently but are on path of obtaining citizenship. Carl is very professional and caring when it comes to explaining legal matters to his clients. Carl will always put you at ease. He even allowed us to call him at home on evenings and weekends for urgent matters. Now, that's impressive.
We also have had the pleasure to work with his other team members (Elif Keles and Ellen Lee). Because of their tireless efforts, our immigration issues were resolved in a matter of months instead of years.
It is without a doubt that we will strongly recommend Carl Shusterman to others. After all, whether or not you get to stay in this country is all dependent on the competency of your attorney. And this is something you don't want to compromise.
A.P. | Encino, CA
I cannot speak highly enough of Carl Shusterman
I cannot speak highly enough of Carl Shusterman, and his ability to do what he does well! I came to him as a Canadian Citizen, and after a few years, I am now about to become a US Citizen, and it is all because of him. His knowledge of the subject, and the way he could always reassure me and set my mind at ease made the experience completely stress free! He always has the time to listen to my concerns, and always finds a way to make me feel better! I could not have gotten through the immigration process if not for his emotional and legal support!
J.S. | Thousands Oaks, CA
I am very grateful to Carl Shusterman and his staff.
I am now a US citizen with a stable job, working 3 days a week and enjoying America. As I look back I am very grateful to Carl Shusterman and his staff who were with us during the immigration process. We did not know what to do or what to expect. Ellen Lee one of Shusterman's lawyers explained and answered our questions by e- mail and kept us informed. Ana Cruz the paralegal updated us. Carl Shusterman made the payments easy for us (monthly installments) which did help a lot since I did not have a job until I got an ins work permit which came about 5 weeks after our papers were filed.
E.B. | Bakersfield, CA
Kudos Galore to Your Staff
Dear Mr. Shusterman,
Words are inadequate to express my absolute appreaciation to your law firm for handling my application for U.S. Citizenship. I remember how touched I was by your kind voice and reassuring words when we spoke (preliminary phone interview). I knew then I had selected the right law firm.
Kudos galore to your staff, especially to attorney Ms. Ellen Lee and assistant Ana Cruz. Their professionalism and compassion helped me through my periods of anxiety. I will always consider the attorney as my earth angel.
Please convey my sincere appreciation to an incredulous , caring attorney– Ms. Ellen Lee.
I am now a proud U.S. Citizen because of their efforts on behalf of your law firm. Sincerely,
S. Singh | Walnut, CA
For the Past 20 Years, We Have Relied on Mr. Shusterman
I work with Merritt Hawkins & Associates, the largest physician search and consulting firm in the United States. For the past 20 years, we have relied on Mr. Shusterman and his immigration law office to assist us in cases where we have recruited international physicians on behalf of our clients. As the length of our relationship indicates, we have found the results that Mr. Shusterman and his firm have achieved for us to be uniformly excellent. Mr. Shusterman is nationally known for his immigration law expertise and is one of the most respected us immigration attorneys. We have found his integrity, professionalism and expertise to be exceptional. Mr. Shusterman is an "attorney's attorney" who is able to resolve immigration cases beyond the scope of many lawyers, and his offices have been decisive in helping us successfully resolve difficult cases. We continue to rely on Mr. Shusterman as a key resource and I can recommend him without reservation.
P.B. Miller | Irving, TX
Professional that I can trust
I am very happy that Belma took over my case. I had I-360 (Vawa) based AOS, and I know that many attorneys would just disregard my fears and my desire to have perfect set of documents. Belma surprised me with providing so much knowledge and detailed expertise to my case. It is common for my type of case to get RFE after interview because there is so much more paperwork and change that can affect the outcome or postpone the Adjustment of Status. Belma prepared very organized and detailed paperwork, that allowed the immigration officer quickly to make a positive decision, no delays, no RFEs. She just knew what she was doing. In addition, she was emotionally present and I felt that she really cares, and that is a definition of the perfect lawyer! I recommend her, especially to you VAWA people, because she is very knowledgable, well informed (which is not always the case with attorneys), she has great ethics, and she will pay attention to your needs!
Kate | Former Client
Hire Them Only if You Want to Get the Job Done
My husband and I would like to extend our sincerest "Thank you" to Attorney Ellen Lee. Our case was probably extremely challenging given our age difference, ethnicity and religion; we were scrutinized heavily during our immigration green card process. When we received the intent to deny letter, we researched and found who we believed and suspected that could help us. We were interviewed by Mr. Shusterman, and Ellen took the case…Ellen was tough. She made sure we were a real couple. Once we had her approval, we had a good feeling we had the right person who would fight for us…Ellen certainly did. She was our hero; we collaboratively put together a response to the intent to deny. In short, Ellen single-handedly won our case due to her many years of experience and reputation. We cannot even begin to express our gratitude to Ellen.
Great Work
We are very pleased by the services we get from the Law Offices of Carl Shusterman. Our experience in the past year with all our H1B renewals has been amazing, and we've obtained great results. Working with Senior paralegal Jay pounders and Attorney Raj Krishna has been great. Raj Krishna Iyer gives us special attention on each case. His immense knowledge in the immigration matters, professionalism, and endless efforts to help us with every step in preparing the documents for all our needs have been exceptional. Finally, Mr. Shusterman himself is a very humble man with many years of experience in immigration matters. We would highly recommend this organization to anyone who seeks legal advice.
KRG Technologies Inc.
What Can We Help You With - videos
Green Cards Through Employment
Green Cards Through Marriage