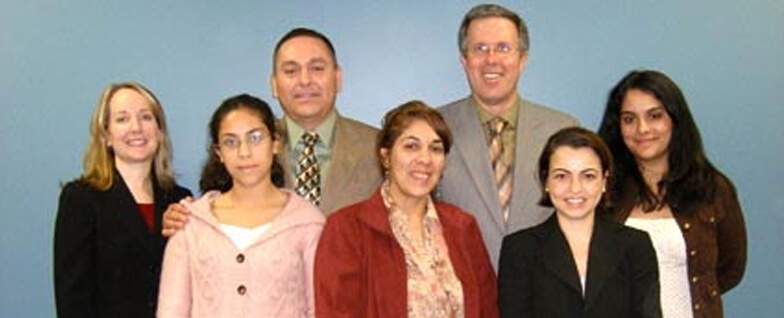 Great Work
We are very pleased by the services we get from the Law Offices of Carl Shusterman. Our experience in the past year with all our H1B renewals has been amazing, and we've obtained great results. Working with Senior paralegal Jay pounders and Attorney Raj Krishna has been great. Raj Krishna Iyer gives us special attention on each case. His immense knowledge in the immigration matters, professionalism, and endless efforts to help us with every step in preparing the documents for all our needs have been exceptional. Finally, Mr. Shusterman himself is a very humble man with many years of experience in immigration matters. We would highly recommend this organization to anyone who seeks legal advice.
KRG Technologies Inc.
Very Efficient and Professional!
I would like to thank the team of Carl Shusterman's Office who took care of my application for naturalization form. Everything well and very fast! Very efficient and professional!
Jennie Kil | San Francisco, CA
I am very grateful to Carl Shusterman and his staff.
I am now a US citizen with a stable job, working 3 days a week and enjoying America. As I look back I am very grateful to Carl Shusterman and his staff who were with us during the immigration process. We did not know what to do or what to expect. Ellen Lee one of Shusterman's lawyers explained and answered our questions by e- mail and kept us informed. Ana Cruz the paralegal updated us. Carl Shusterman made the payments easy for us (monthly installments) which did help a lot since I did not have a job until I got an ins work permit which came about 5 weeks after our papers were filed.
E.B. | Bakersfield, CA
Best Immigration Firm
I had sought help from two other immigration attorneys in Los Angeles before a fellow associate recommended attorney Carl Shusterman. Carl and his staff, attorney Rajakrishna Iyer and Senior Paralegal Jay Pounders were wonderful, professional, with a thorough understanding of the immigration process for obtaining visa's for artists. As they expedited our case with the utmost confidence and speed, we are truly grateful for their hard work and guidance throughout the proceedings. I highly commend and recommend Mr Shusterman's law firm for all immigration issues."
T.B.
This is the Best Law Firm that One Can Ask For
My family had our F4 I-485 adjustment of status denied on Oct 29, 2010 because as Canadians being in and out of the US triggered unlawful presence!!! We had consulted with different lawyers but none could get us a clear response. Some even not taking our case for consideration. But thank God, we found Mr. Shusterman's law firm and came for help on 11/15/2010.
Thanks especially to Attorney Ellen Ma Lee for her effort, knowledge, and expertise. She clearly explained and confidently took the case on herself. We immediately felt the peace, comfort, and confidence after the very first consultation with her.
After 2 weeks of having her as our attorney, our green cards came in the mail. We got them on 11/29/2010, surprisingly.
Once again, thanks from the bottom of our hearts for your help and the experience that you possess. Our lives would have been so different if we did not retain your service. Also thanks to Maria Cobian for her quick responses and great communication.
To anybody looking for immigration help, please do not waste your time looking around, this is it! None out there is better than Mr. Shusterman's law firm.
Thinh N. | Corona, CA
Unparalleled Success
My entire family is so indebted for the effort, moral support and patience that Attorney Amy Prokop has provided. Attorney Prokop has been our stronghold during this entire episode of our roller coaster ride. I would like to mention that my children appreciate her for being approachable and insightful. Her kindness and respect for others makes working with her more comfortable. We felt that Attorney Prokop's exemplary work attitude, profound knowledge and prestigious professionalism are customary to every single case and every client that she works with.
We Would Not Think of Going to Anyone Else
My situation was complicated for all the wrong reasons and even my own consulate did not help me, however, when my children approached Atty. Shusterman's office, he not only patiently granted them an audience, studied the case in its entire detail before suggesting the different options open to them, he assured them that the United States of America and the laws / legal system herein, was diligent enough to protect the rights of all its residents and citizens and their immediate relatives.
Attorney Shusterman put my case in the able hands of Atty Ellen Lee who worked very closely and persistently with my children to get all my paperwork together by suggesting the alternatives for the unavailability of certain documents (due to the fact there was no record-keeping in India during the time of my birth etc.). I am a heart patient and have several health complications and when my 485 interview came up, I was extremely tense and worried since the general norm Is to grant approval without an interview. My children asked me not to worry since Atty. Lee would be here by my side to help represent my case to the adjudicating officer. Although the situation was a little worrisome, as my children informed me later, Atty. Lee just kept assuring me all along during the time of my prep that there was nothing to worry, even if I was not very comfortable speaking English, to tell the truth, to not deny my genuine ignorance on certain issues which led to the complexity of my case etc. She kept a keen eye on my health situation and was very perceptive of my feelings and anxiety. At the interview, I could not have asked for someone better to represent me, because she made me feel completely assured, by the easy manner in which she talked to the Adjudicating officers, presented the problems with the corrupt bureaucracy in my country, and what were the possible options and all the documentation we had provided etc. Needless to say, the officers were convinced of my helpless situation and I truly thank the US of A for being so supportive of its citizens and residents, and after a new technology test that they asked me to undergo, which proved my position, as suggested by Atty. Lee based on her knowledge of the system, my case was approved and I received my Green Card last week, less than eight months from the date of my application.
My children found Atty. Shusterman on Google in their search of top immigration attorneys in 2006, after some local bay area immigration consultants and attorneys swindled us of a lot of money and yet almost botched up my case. However, after we came to the Law offices of Carl Shusterman, every situation, every challenge, every option was explored in detail, not only by the Atty. Shusterman himself, his able associates, Elif Keles and Ellen Lee.They are worth every penny that we spent as some of the previous reviewers have mentioned. We would not think of going to anyone else for our future immigration needs. Its not just about being knowledgeable and professional – it is about taking a personal interest in the well-being of their clients, no matter how complex the situation that makes Atty Shusterman and his associates like Atty Ellen Lee are the best in what they do.
Mahima S. | Milpitas, CA
For the Past 20 Years, We Have Relied on Mr. Shusterman
I work with Merritt Hawkins & Associates, the largest physician search and consulting firm in the United States. For the past 20 years, we have relied on Mr. Shusterman and his immigration law office to assist us in cases where we have recruited international physicians on behalf of our clients. As the length of our relationship indicates, we have found the results that Mr. Shusterman and his firm have achieved for us to be uniformly excellent. Mr. Shusterman is nationally known for his immigration law expertise and is one of the most respected us immigration attorneys. We have found his integrity, professionalism and expertise to be exceptional. Mr. Shusterman is an "attorney's attorney" who is able to resolve immigration cases beyond the scope of many lawyers, and his offices have been decisive in helping us successfully resolve difficult cases. We continue to rely on Mr. Shusterman as a key resource and I can recommend him without reservation.
P.B. Miller | Irving, TX
The Best Immigration Law Firm
Carl Shusterman and his team are simply phenomenal. Attorneys Amy Prokop and Carl were always available to provide support and advice. They were always on top of my case and provided prompt updates. Their knowledge about Los Angeles immigration law is above any other law firm in California. If you want the best, I recommend the Law Office of Carl Shusterman.
Luis
Extremely happy with the service.
Extremely happy with the service. Fees are very reasonable for the quality of service that they provide. Hired their services a few years ago after 2 lawyers told me my case was hopeless and advised me to go back to my country of origin. I got a green card on December 2011.
Jon Wong | Lawton, OK
What Can We Help You With - videos
Green Cards Through Employment
Green Cards Through Marriage
US Citizenship through Naturalization
I-9 Audits: A Survival Guide for Employers
Immigration Court - How to Win Your Case
View More Videos